Well it's March already and I already have all the components needed to build a RepRap "Version II" Mendel EXCEPT for the RP parts. So what else is new. There was one set offered on EBay.de but I got outbid at the last minute.


I then thought about going the same route as nophead (Chris Palmer) and his Hydraraptor and found this XY table on EBay.de. Again got outbid at the last second. I was a little worried about it's size: 600 mm x 570 mm but it looked like it would have worked very well. I also wasn't sure if I was going to be able to use my Mendel Gen 3 electronics to drive the thing either…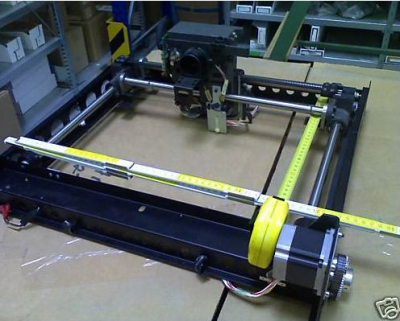 Have then been thinking about building a RepStrap and despite all the negative messages in the forums still feel that the McWire is the simplest design that is currently well documented! Have been following the German RepRap Foundation as they are building (and selling the components for) a McWire cheaper than what I have found in the hardware stores.
Then I thought before going the McWire route I would appeal one more time in the forum to my fellow reprappers to see if someone might have a set of Mendel RP parts to sell. Coincidentally within hours a post appeared declaring that a complete set of Mendel RP parts is going up for sale on EBay.uk!

And the biggest surprise is the creator of the parts is none other than Adrian Bowyer himself (the father of the RepRap project)! The EBay auction doesn't end until March 14th so I can't do anything more as far as obtaining the RP parts (or building a McWire) until I know if I am going to win (or lose) the auction.
So I guess I can at least modify the MakerBot Gen 3 electronics for the RepRap (mostly changing some connectors) and run the tests described in the wiki for the various boards. Also still need to cut out the thin parts from some aluminum that I pulled out of an old hp LaserJet IIIP laser printer. Also removed the stepper motor and fan in case I might need them for something. Also must assemble the v2.1 Opto Endstop kit (well at least 3 of the 6 boards).
I did make one contact on the forums with someone who works in Frankfurt and has a CNC mill so I may go visit him on a weekend when I am ready to add a heated bed to my Mendel (or RepStrap). Already have purchased some aluminum plates on Ebay in anticipation of needing a heated bed since I plan on extruding ABS (at least initially). I really like the design nophead came up with using a kapton covered steel plate magnetically attached to his heated aluminum plate known as the Quick Release Bed!

So I guess it's hurray up and wait to see if I am the lucky winner (highest bidder) of the Mendel RP parts or not…
UPDATE on 6 March 2010 @ 06:12: Still 8 days to go on the auction and I've been outbid twice. Already at 250 English Pounds!